VIDEO GAME SUMMER CAMP IN BARRIE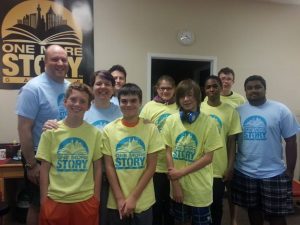 One More Story Games is proud to offer its second year of summer camp programming for youth to learn about video game creation.
This one week program is
for kids aged 12-16

who enjoy reading and want to create an interactive story game

who enjoy video games and want to learn the basics of storytelling and coding

Instruction is in English and ASL (American Sign Language)

Maximum 10 students per class, with 2 instructors.
Hours of camp are 10am to 3:30pm,  Monday through Friday.
Location: The Creative Space, 12 Dunlop St E, Barrie.
Campers will receive a t-shirt and a certificate of completion, along with access to our software StoryStylus for a full year.
Note for Parents
Parents, before you register your child, we encourage your child to play one of our games to see the kinds of games we will be making. This isn't Minecraft or shoot 'em up games, which can be disappointing to some!
Please call our office at 705-828-5326 if you have any questions or concerns.
Here's what we'll cover: 
Storytelling basics – what are the nouns of your story – people, place, things, conversations

What kind of games do you want to make? Are they simple or do they have lots of possible endings? Linear versus branching stories (like Choose Your Own Adventures!)

Researching media files – get photos and sound effects online

Learn basic programming skills

Putting all the pieces of the story together to test and share the story game on the web, Facebook and tablet
For more information on dates, registration fees and subsidies, visit www.writestorygames.ca."