Bill Monahan ~ Super September for Music in Meaford
Meaford Live Music
Now that summer vacation (hopefully not summer weather) is over, the Opera House at Meaford Hall is getting back into a heavy concert schedule with some exciting offerings.  There's no point in mentioning the most exciting, which is a concert with Bahamas and Jason Collett coming September 29th, because it is already sold out.  If you have tickets you're one of the lucky ones.  But if you act quickly you can still get tickets to the other great concerts coming up, all of them in the third week of the month .
Corb Lund coming to Meaford Hall
Corb Lund will be here at Meaford Hall on Tuesday, September 20th.  "Fans have come to not only expect toe-tapping hits from Corb Lund, but also sidesplitting laughs," according to a review in Exclaim! Magazine.  This former bassist for The Smalls is described by Mike Devlin in Nanaimo's Times-Colonist as "alt-country all-star, Prairie poet, rock 'n' roll raconteur and barroom bad-boy"  Pick any adjective and it sounds like a show worth seeing.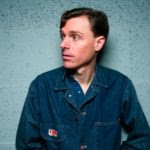 Joel Plaskett
Two days later it's another alt-rock band graduate Joel Plaskett, one time lead singer of Thrush Hermit.  Patrick Langston of the Ottawa Citizen says "the sincerity, gangly charm and touch of east coast accent that make Plaskett a perennial favourite on the tour circuit".
Johnny Cash Tribute
So that's the west and east coasts represented respectively.  Both artists have been known to dress in black on stage but the original man in black is represented two days after Plaskett in a show called "We Walk The Line" featuring Ward Cornforth as a 1960's era Johnny Cash and a dynamic performance by Shanya Lynn Dawson as "June Carter".
THIS WEEK – SEPT. 5 TO 11, 2016
TUES: Open stage at The Leeky Canoe 8 to 11 hosted by Chris Scerri with Paul Armstrong // WED: Open stage at Captains Corner 6 to 9 hosted by Amanda Dorey // WED: Open jam at Ted's Range Road Diner 9 to 12 // THURS: Jayden Grahlman at Leeky Canoe 9:00 to 12:30 // FRI: Scott Almond at Captains Corner 6 to 9 // SAT: Rob Elder at The Leeky Canoe 9:00 to 12:30 // SUN: Open Stage at The Barn, noon to 2 pm hosted by Jayden Grahlman